Monkey Business Muffcakes (muffin + cupcake hybrid)
Recently, my Mom came to visit me in Oakland and prior to her arrival, I wanted to bake something in the house to make her feel welcomed. My mom is obviously a big influencer in my blog because well, she was the person who gave me very first cooking lesson. Baking to be exact. I was a highly active kid growing up, always involved in a sports team, club or activity so fundraising was always a big deal. Signature fundraisers back then usually included bake sales so my mom quickly brought me up to speed so that I could help her with the load. I use to bake cupcakes, cakes, cookies on the regular and add in random ingredients. My Dad and brother was pretty supportive so it became a regular thing for me to do outside of bake sales. Over the years, I stopped baking as much and when I decided to start this blog I thought it would be a great way to get back into it. With that said, as I prepared for Mom's visit, I happen to have a few spare bananas and some baking ingredients on hand so I sat down to ideate. I came up with Bananas + Bourbon + Chocolate Chips = Excellent Combination, right? How about topping it with a frosting made with cream cheese, maple almond butter (Justin's) and powdered sugar? Heavenly! This is a bit of a cupcake and muffin hybrid...so that would be what, a muffcake or cupfin? Either way, if you are like me and you have a tendency to buy bananas and not finish them before they brown, this is a creative way to put them to use!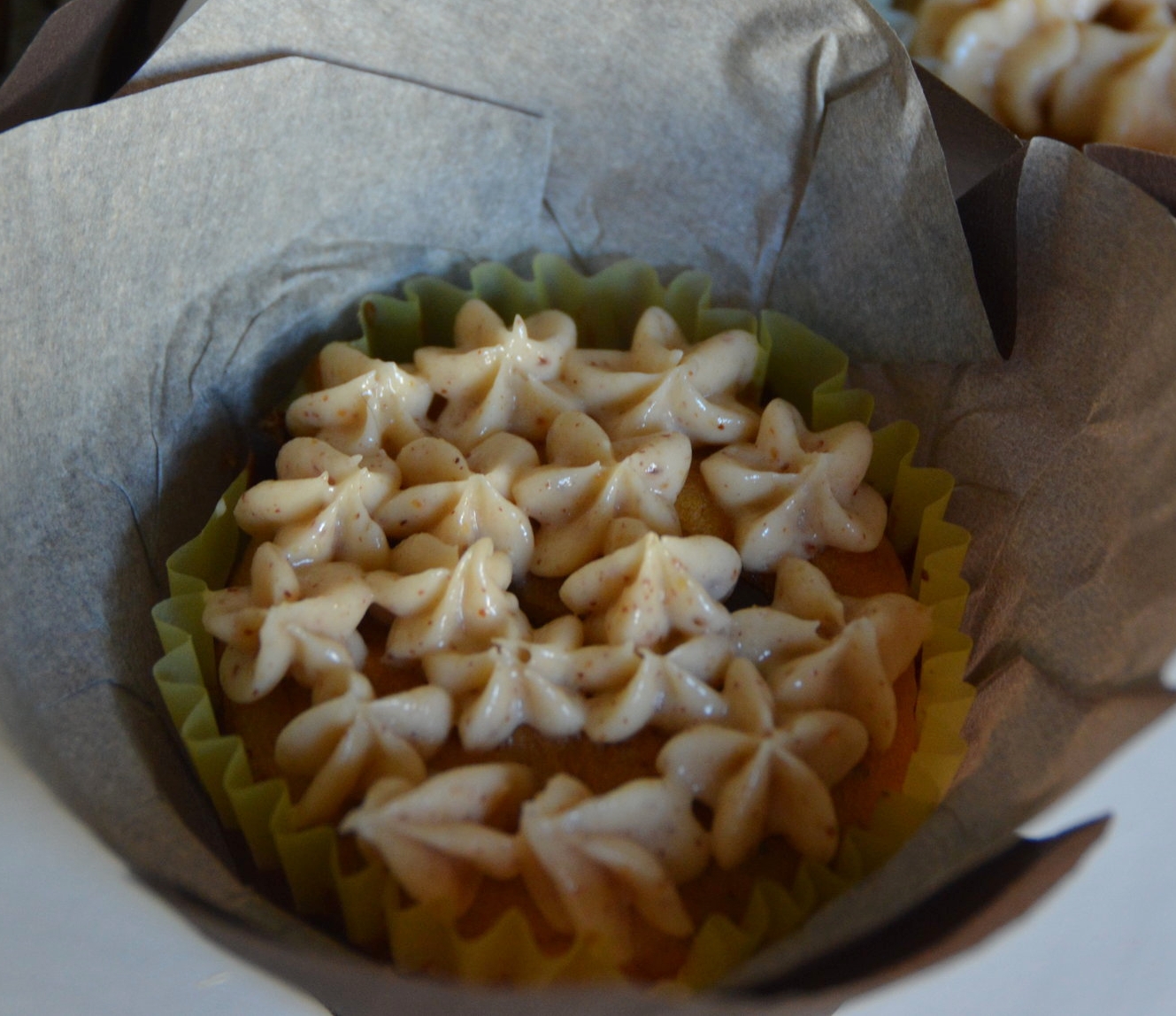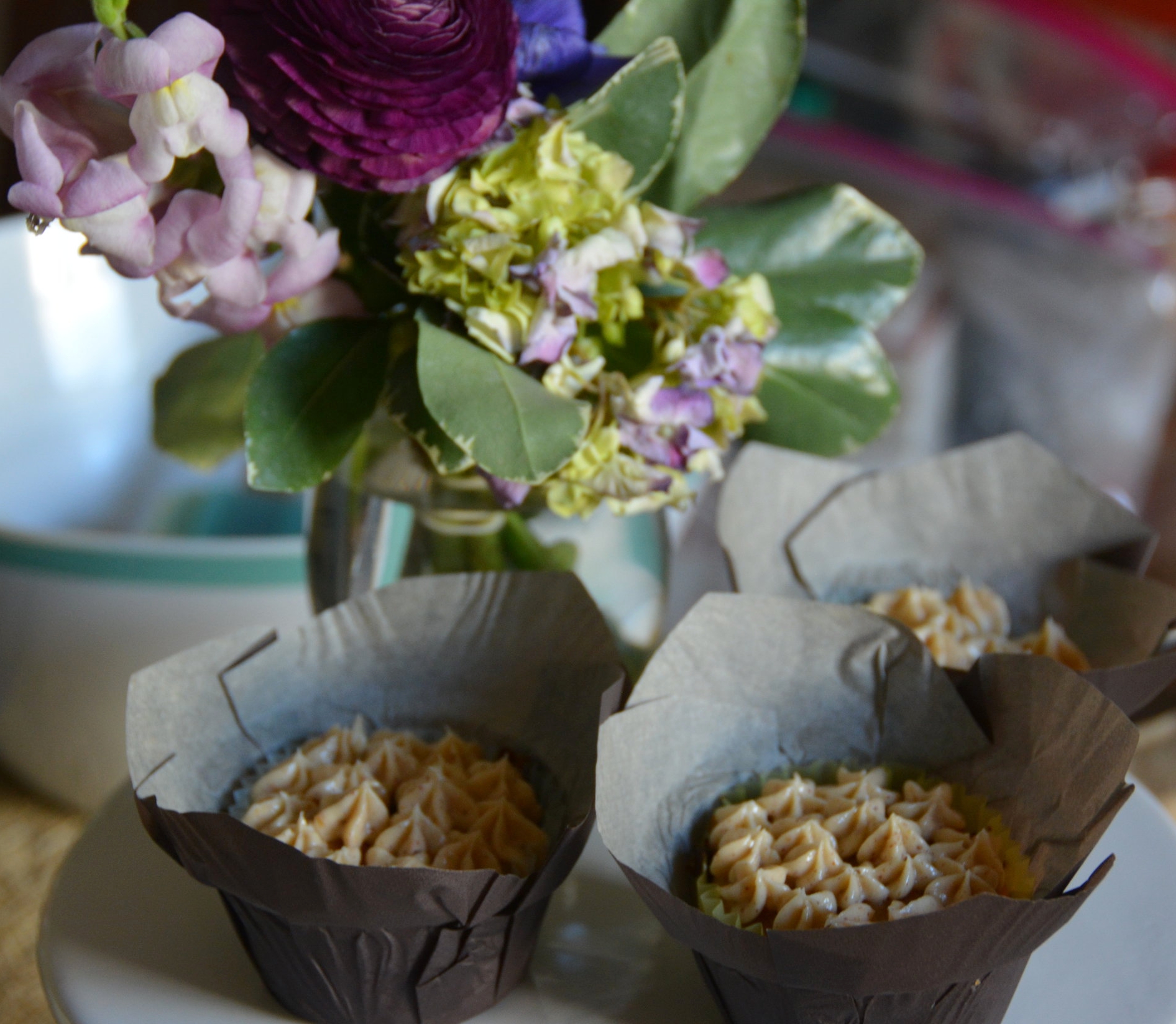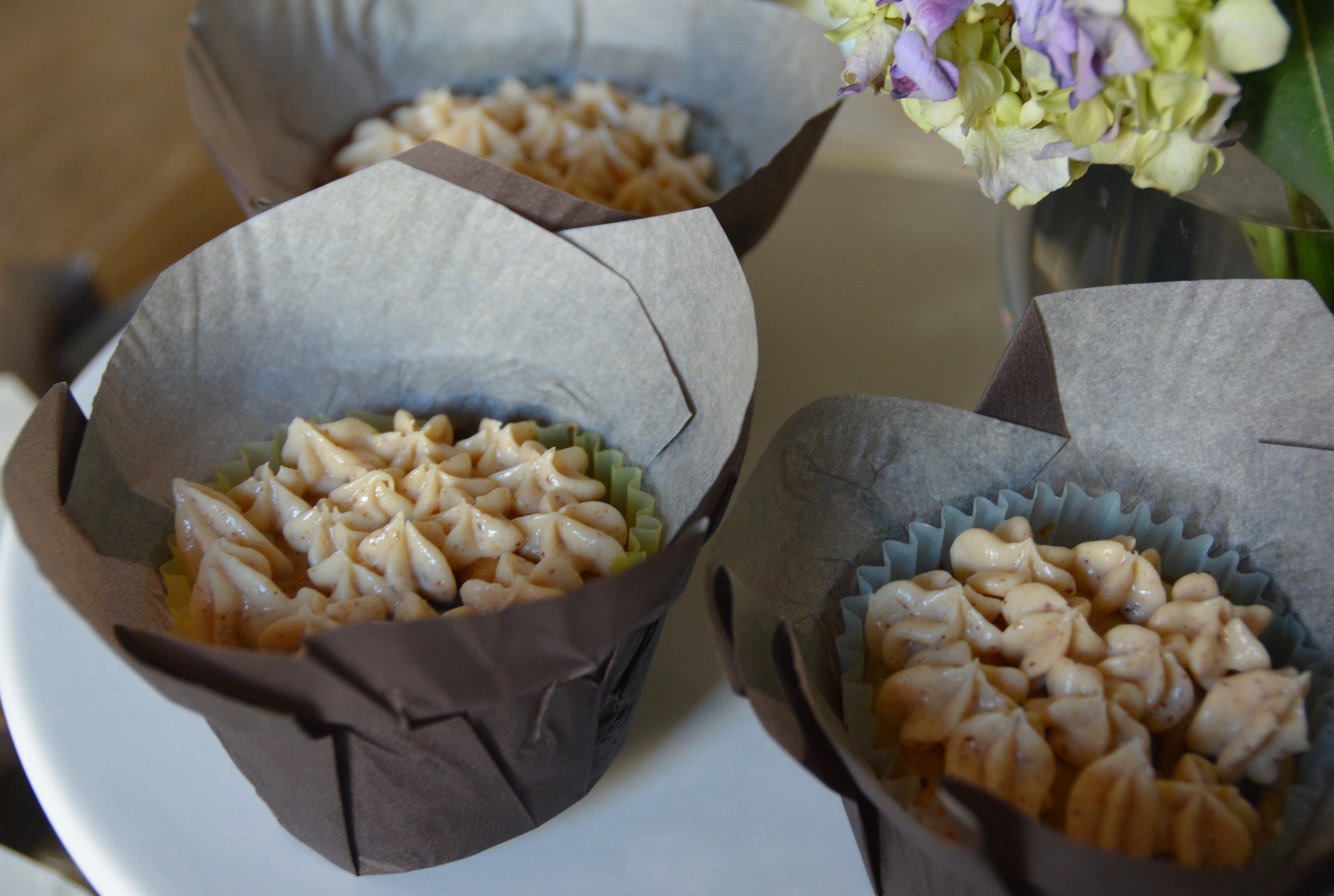 INGREDIENTS
3 Bananas (very ripe)
1 1/4 Cups of All Purpose Flour
1 Tsp Baking Soda
1 1/2 Tsp Vanila Extract
3 Eggs
1/4 Cup of Granulated Sugar
1/2 Tsp of Chia Seeds
1 Tsp of Salt
2 Tbsp of Bourbon
1/2 Cup of Oil
1/3 Cup of Chocolate Chips (Semi Sweet)
Frosting Ingredients:
4-6 oz of Cream Cheese
1/2 cup of Heavy Cream
2 TBSP of Justin's Maple Almond Butter
1/2 cup of Powdered Sugar -Note: You can add more or less depending on how sweet you want the frosting to be. I don't like for it to be overbearing and I still want to taste the other flavors.
What you will need: sifter, mixing bowls, whisk, cupcake liners, and electric mixer, cupcake/muffin baking pan
LET'S. DO. THIS.
Preheat oven to 350 degrees and line the cupcake/muffin tins. I sprayed down the liners with cooking spray to avoid the stickiness.
Peel the bananas and place into a mixing bowl. Using a fork, press down and smash the bananas until they become mushy. Add in the eggs, vanilla extract, granulated sugar and bourbon. Using the a mixer to combine the ingredients.
In a sifter, add in flour, baking soda and salt. Sift gradually into the wet ingredients mixture until thoroughly combined. Fold in the chia seeds and the chocolate chips.
Once all ingredients are mixed and evenly distributed, fill cupcake liners with the batter and place in the pre heated oven to bake for 40-50 mins. You will know that it's ready once you insert a toothpick and it comes out clear.
Remove from heat and let cool for 20-30 mins.
While the bread cools, you can start on the frosting. Grab a mixing bowl and add the cream cheese, almond butter, and heavy cream and begin to mix together with an electric mixer. Slowly add in the powdered sugar until you reach the consistency and flavor of your liking. I kept the powdered sugar portion light because I like the combination of the cream cheese with the maple almond butter to shine through.
Once you are satisfied with the frosting, scoop into a piping bag (or large Ziploc or freezer bag). I used a starburst frosting tip to get the design that you see but really, it's your choice so freestyle away! Once you finish frosting the bread you can enjoy! These will last in the fridge for about 2-3 days.